The Story of an Afghan Immigrant Family
By Abdul Qadeer Rahmanzai, Loan Specialist
November 2023
Mohammad fled Afghanistan with his wife and three children in 2010 and stayed in Turkey until he was resettled in the United States in 2018. Despite the hardship he initially faced in the first two years, he built a successful family tailoring and alterations business in his new home of Sacramento. Mohammad overcame economic, cultural, and language barriers to find stability and build a home for his family. "I had hope that tomorrow would be better," he remembers. 
With two full-time tailors and one sales representative, his business sells traditional Afghan attire and provides tailoring services for modern and traditional clothing and curtains. 
In his shop, Mohammad offers free tailoring and alterations training for newly arrived Afghan women. His wife, who works alongside Mohammad, volunteers to train the women to sew modern dresses and traditional attire in their native languages, Dari and Pashto. She also volunteers weekly at a non-profit organization to teach 15-20 women stitching and alterations. "My wife and I are fortunate to give back to our community. The women we train here can work from home and make money while caring for their kids," Mohammad says proudly. 
Mohammad was referred by a friend to Opening Doors' Micro-Lending Program to enhance his business. He took a $10,000 loan to expand his business at the Galt Flea Market, which specializes in serving Spanish-speaking clients.   
Now working as a manager for both businesses, Mohammad says, "I am living a prosperous life! I have a successful business, and I am actively engaged in social events of my community where I give back," Mohammad says. 
His journey is one of the many stories of immigrants paying it forward to their host communities by supporting new arrivals with opportunities to help them find self-sufficiency.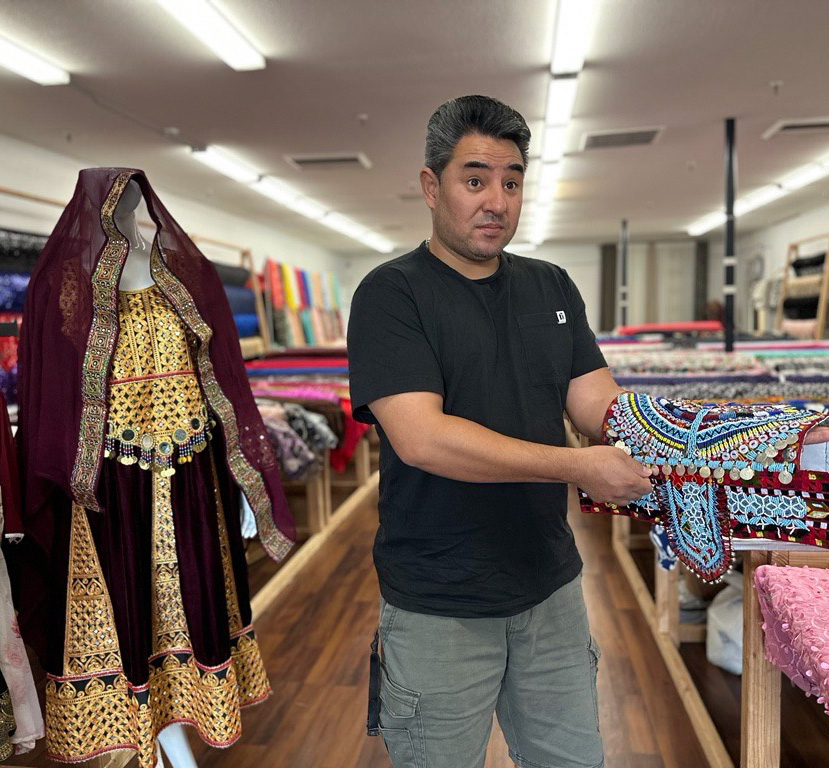 Mohammad shows Yakhan handmade unique embroidery work he uses to make traditional Afghan dresses.